Cryogenic Ball Valve.
Triad offers a series of full port industrial ball valves for all types of cryogenic services including: oxygen, hydrogen, methane, ammonia, nitrogen, fluorine, and LNG (Liquid Natural Gas). The Triad cryogenic ball valves are all manufactured and tested to British Standard 6364 (BS 6364) which requires the cryogenic ball valve to perform at temperatures as low as -321°F.
Triad cryogenic ball valves are specially cleaned to remove all grease and oils that may react with the service media. After cleaning, each valve is packaged and sealed in a heavy poly bag to keep the valve clean until installation.
Triad cryogenic ball valves are all designed for low torque operation throughout the entire temperature range and include body cavity relief hole in the ball to prevent over-pressurization due to thermal expansion. This design feature provides a blow-out proof stem design. The valves are also available with direct mount actuator capabilities.
The Triad cryogenic ball valves all include bonnet extensions and live loaded stem seals. Live loaded stem seals provide self-adjustment to the packing at the top of the bonnet extension. The extended stem and bonnet design also allow the position of the stem packing to be above the cryogenic fluid. This design feature provides a column of warmer vapor that insulates the stem seal from the effects of low temperatures.
The Triad cryogenic ball valves include PCTFE seats. PCTFE (polychlorotrifluoroethylene) combines physical, mechanical, and electrical properties not found in any other thermoplastic fluoropolymer. The key features of PCTFE are: non-flammability, chemical resistance, near-zero moisture absorption and excellent performance in a temperature range of -400° F to 400° F. In addition, PCTFE has a high compressive strength, exceptional resistance to cold flow and is optically transparent.
The Triad cryogenic valves are also available with a "v" port ball option. The "v" port ball allows the orifice to be opened and closed in a more controlled manner, with a close to linear flow characteristic. These types of valves are commonly used in water treatment, food processing, acid transfer, agriculture, bleach chemicals, leaching acid, waste processing and pharmaceuticals where process flow control is required.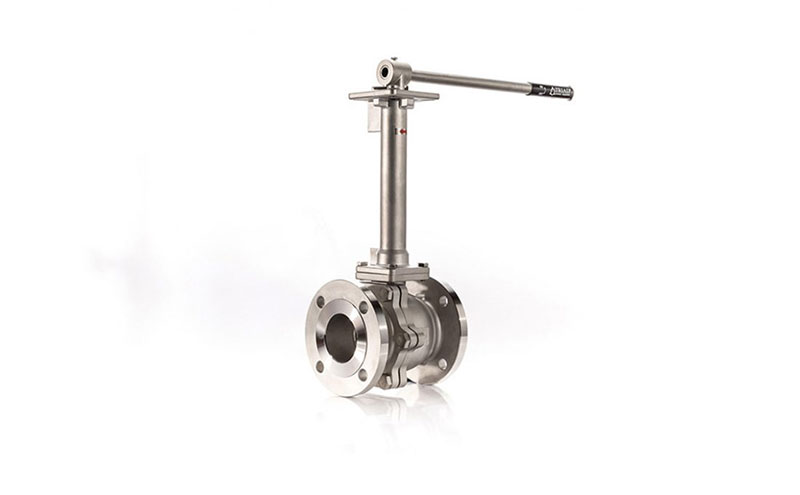 Triad also manufactures high quality high pressure ball valves, metal seated ball valves, flanged ball valves, industrial butterfly valves, high performance butterfly valves, control valves and custom valves to meet your specifications.
Visit us on Instagram!