Following independent paths of investigation, two research teams, one of which is a major university, announced that they successfully converted sugar into gasoline, diesel fuel, jet fuel plus a range of other valuable chemicals.
This research is derived from the theory that sugar beets produce twice as much ethanol per acre as corn and require about 40 percent less water. The process of this conversion is proprietary and requires ball valves that can seal off at temperatures of 1200°F. 
The university chose Triad Series 66 metal seated ball valves.
The university chose The Triad ball valve because of Triad's reputation for quality. Also, The valves were installed in 2009 and are performing as expected to this day.
The Triad series 9150, 9300 and 66 valves are available with engineered metal seats for today's demanding process conditions. These valves are suitable for applications with elevated temperatures and or highly abrasive conditions. A hard chrome plated 316SS or electro-less Nickle plated ball and hard faced Stellite or Alloy 6 seat is provided with these valves. Class V shut off is manufactured into all of these valves. These Valves are used for specific applications.
Series 9150 & 9300 Standards
ANSI B16.34, ANSI B16.5, ANSI B16.10, API 6D, API 509, API 607, API-Q1-0815, API 6D – # 6D-0867 & ISO 9001:2008
Series 66 Standards
ANSI B16.34, ANSI B16.25, ANSI B1.20, API 6D, API 598, API 607, API-Q1-0815, API 6D – # 6D-0867 & ISO
Pressure Ratings:
9150 and 9300 series: Complies with ANSI 150# and 300# pressure rating.
66 series:

2,000 psi WOG through 1"
1500 psi 1-1/4" through2"
1000 psi 2-1/2" through 4"
Available Temperature Ranges:
750 °F, 1000 °F, and 1200 °F.
Higher temperatures available.
Metal Seat Option
The Triad series 9150, 9300 and 66 process ball valves are all available with a metal seat option.
HIGH TEMPERATURE ACTUATOR MOUNTING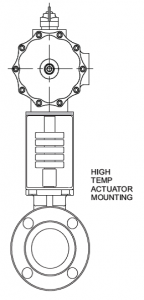 Electric, pneumatic or hydraulic actuators are usually outfitted for our metal seated ball valves.
Special actuator mounting is designed for high temperatures which both isolates and dissipates the process heat that may otherwise cause damage to the actuator.
Triad also manufactures high quality high pressure ball valves, cryogenic ball valves, metal seated ball valves, flanged ball valves, industrial butterfly valves, high performance butterfly valves, control valves and custom valves to meet your specifications.
Visit us on Instagram!